Living with a new or intensive medical condition?
"When we first received my wife's cancer diagnosis, the only thing I remember was sitting in our car afterwards in the underground parkade, holding hands and crying."
-

Mike Urquhart, COO
A new or intensive medical condition diagnosis can be an extremely challenging time for patients. This page is where we will continue to gather resources from other patients, patient support organizations, researchers, and an assortment of health care providers.

We hope that you will find it useful as you think about your goals and navigate the challenges of your health journey.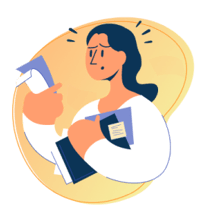 GOALS
Defining hope and your new normal
While this list is by no means exhaustive, below are some very common goals to consider after being diagnosed with a new or intensive medical condition:
Gaining an understanding
After receiving a new diagnosis, the first steps are around understand and learning about the medical condition(s), available treatment options, and potential lifestyle modifications that are available.
From here the goal is often defining success for the patient, and developing a course of action plan that incorporates symptom management (e.g. pain) and the treatment plan.
This might also include getting a second opinion and investigating clinical trials, depending on the patient's personal circumstances, healthcare system, insurance coverage and financial resources, assessing the practicality and sustainability of different options might be a reality.


Is there a "good" time?
Determining the best timing and method of communicating the condition with family and friends, and in particular any children that might be impacted.
Figuring out a new normal
Depending on the condition, this can evolve over time, but often includes impacts to work, finances, travel, recreational activities, sexual intimacy, and may include impacts to mobility.

It may also include impacts to day to day life, including child care, pet care, meal planning and preparation, laundry, house cleaning and other activities that could be influenced by the diagnosis.

Beyond physical health

In addition to physical treatment options, patients will often need to determine the best support options for their mental health, along with that of their caregivers and children as applicable.
This is often very location dependent, and can range from support groups, peer mentoring, to one on one therapy.
CHALLENGES
Every journey is unique, but many of the obstacles are similar
Below are some of the challenges typically faced by patients with a new or intensive medical condition:
Learning Curve
Unless they are health care providers, patients normally have little to no experience or expertise related to applicable medical conditions. This generally results in a steep learning curve to educate themselves, but also can result in uncertainty when it comes to decision making and advocating for themselves effectively.
Patients are often overloaded and overwhelmed
Often information is coming from multiple sources in a variety of formats and at several different appointment. Patients find it difficult to remember and organize everything, find things later, and do any sort of analysis of data.

This is why many patients end up with binders or boxes of information over time.
Navigating the healthcare system
The flow of healthcare systems is often centered around health care institutions and providers, not the patient. So times of intense activity can be mixed with periods of inactivity and limited communication. These periods of inactivity can be extremely challenging for patients, and cause high levels of anxiety.
Mental Health
A recent or intensive diagnosis can have a number of psychosocial effects on a patient, including uncertainty, anxiety, depression, anger, and concerns about their sexuality, sex life and body image.
A new or intensive medical condition can be physically and emotionally exhausting, leaving little energy for other aspects in the patient's life.