How Zamplo is used for research
Zamplo, when paired with the researcher application Zamplo Research, can be used in clinical studies for remote monitoring of patient-reported outcome measures (PROMs) data.
Zamplo Research allows for researchers to configure and create templates and surveys for the collection of patient data through Zamplo.

Benefits of
Zamplo Research

Real-World, Real-Time Data
Scale across borders, one-tool for multi-site studies

Patient-Reported Outcomes
PROMIS - e.g. EQ-5D, ESAS

Customization Tools
Create customized surveys, metrics, and activities

Data Security and Privacy
Data is stored encrypted on AWS servers in Canada. Personal data is never sold to 3rd parties.
Zamplo's cutting-edge innovation and mHealth research
Remote monitoring of PROMs data for clinical trials

Add or edit PROMs questionnaires at any point during the trial and send them instantly to trial participants

Streamline recruitment and enrollment in research studies via bulk import and individual online enrollment

Reduce attrition rates with built-in participant engagement tools through notifications, reminders, and a precision-medicine based algorithm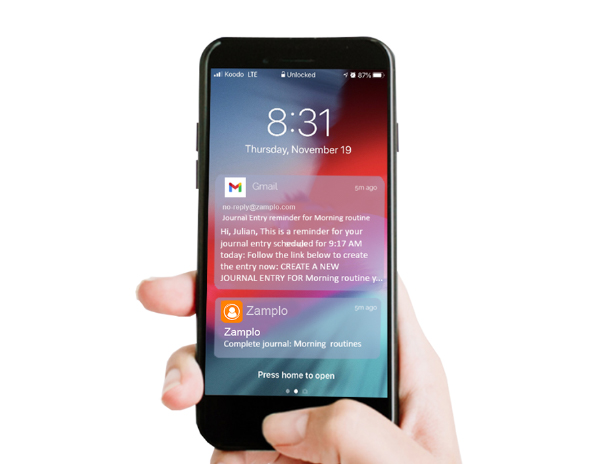 Scalable solution for longitudinal PROMs data collection that benefits patients & researchers
Secure encrypted data extracts that prioritize patient privacy for multisite clinical trials
Built in participant engagement & compliance monitoring that improves adherence
Ongoing Research

Using Zamplo


EXCEL is a research project that will provide an evidence-based exercise and behavior change program to rural and remote cancer survivors across Canada. EXCEL will aim to reduce health disparities in rural remote cancer survivors.
Want to learn more about the EXCEL study?
M.A.G.I.C Clinic and Zamplo have partnered up together to bring the Zamplo app to clinic patients as part of the G.R.I.T study. The purpose is to see if Zamplo can help patients stay engaged in their healthcare treatment.
Want to learn more about the G.R.I.T study?
The PROMPT study will be using Zamplo to monitor QoL and toxicity. The study aims to assess the frequency of grade 2 or above radiotherapy-related adverse events with extended monitoring within 1 month of radiotherapy.
Want to learn more about the PROMPT Study?