You are the conductor of your own orchestra

These five words changed my life forever:
"You have invasive ductal carcinoma."
They also changed my mindset.
Before the day I heard this, I was one type of person. I was constantly waiting for permission from others who I viewed as the leaders, on how to acceptably move ahead, to progress at anything worth doing. Heaven forbid I should "do it wrong" and upset the apple cart. I was born and raised to be a subservient people-pleaser. At least that's what my fixed mindset* at the time told me that I was and would always be.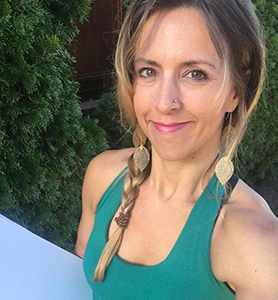 Within 48 hours of my breast cancer diagnosis, I left that version of me behind. Outside the medical building waiting to meet my surgeon for the first time, holding an empty binder, I did a full 180. The fear of not knowing yet how much cancer, or how advanced it was, pushed me over the edge of my previous reasoning to understand that the gift of my life could be taken away at any time.
I had just turned 43.
I did not give my body permission to quit.
I did not give permission to my cells to wage war on one another.
I did not give permission for any of this.
That day it finally dawned on me, "I have the right to give permission. I give myself permission to heal."
It was late-August 2017. Standing outside that surgeon's office in the early morning sunlight, I closed my eyes, breathed in deeply and began to smile a grin so wide I felt my cheeks hurt. I just found out I had cancer and I was smiling?
Yes. I realized that no one would ever give me permission to live my dreams. No one but me had the power to do what I was capable of doing. No one was holding me back, except me. Suddenly remembering that whatever I manifested in my twenties, when I was full of hope, had come to fruition one way or another, it seemed 43 year-old me got so used to being kept busy I stopped manifesting. The trials and tribulations of being an everyday career-mom struggling to impress increasingly more leaders in the room so I could pay my half of the mortgage, left me with nothing but a go-go-go, yes-sir/yes-ma'am lifestyle.
But cancer made me stop. Full stop. My critical illness became a device for personal change. Overnight, I grew into someone who believed that any challenge, no matter how difficult, could be faced with bravery and a game-plan. I learned that whatever the challenge, I could learn and grow from it. Even if it was the challenge of being faced with death. This is a growth mindset*.
On the Tuesday evening I was diagnosed, after telling my husband we texted our neighbourhood friends who went through the same process two years prior. I knew my husband would need emotional support from the other husband to understand his fears, and I would need to know what my girlfriend went through. I had to wrap my head around the challenges that lay ahead, and that was something I couldn't do sitting with my physician hours earlier because the room was still spinning.
Lucky for me, my girlfriend Laura gave me this critical piece of advice,
"Keep your own binder for your medical records, because no single medical service provider is going to have all your data logged in one spot."

The project manager in me said, "Brilliant! Another project. I can manage this." The new leader in me who, if I'm honest, wanted to think of the medical professionals as the leaders because I wanted them to do a great job of curing me, also thought, "Right. I give these medical professionals permission to inform me of all my options, but ultimately I will choose my treatment. I will own my experience."
The fact is, no one else will live through what the patient lives through. And no matter who joins us along the path for support, we each have our own mindsets going into or own medical challenge. As the patient, psychologically, you must go it alone from start to finish. For me, for breast cancer, that meant: from surgeon, to lab tests, to MRI, to medical oncologist meetings, to radiation treatment, to radiation oncologist meetings, to counselling, and finally to bi-annual follow-ups with the drug study which I'm taking part in.
It's not that I wanted to manage the project that is my own health. It's that, thanks to the organized stay-at-home mom that is my friend Laura, I was privy to the insight that NO ONE ELSE WILL. Not everyone has a Laura in their life, which is why I'm writing this for you.
With each visit to a different lab or doctor's office, I always made friendly with the receptionist and asked politely if I could have a copy of my results or records for the day. I didn't always understand the paperwork, but when I didn't understand it I wrote down my questions and brought them up at my next appointment. If I wasn't scheduled to see that medical service provider again, I made a point of getting my questions answered before making my decision towards the next step in the process. I was leading my health.
There were a few times when a receptionist would tell me they didn't know yet, since another office (of a different type of medical provider along the path of providers) hadn't forwarded along my results. Each time I would gleefully think, "I have that data!", and offered to share it with them real-time. My medical binder became the bible of my existence, speeding up the reaction time of the medical systems in place which needed a little nudge, because time is precious. (Besides, the medical receptionists were always impressed with how organized I was.)
As an Account Director for a creative agency in my own line of work, I know what it means to coordinate multiple sources for a single client account. I have to know which subject matter expert (SME) to approach for a specific communications topic, and I spend my days coordinating between these SME's. I imagine my job directing accounts to be something similar to conducting an orchestra.
Working across the medical system of specialists is no different, especially when you have a critical or chronic illness. To them, you are a case. I don't doubt compassion will be given to each case, but your case or account is your life. You need to take responsibility for your own medical records, because there is only one of you, and at the risk of sounding cliché there will never be another you. If you'll take my advice, be the conductor of your own orchestra.
My binder is jam packed now. I either need another binder for my future health records, whenever that time comes, or I can enter my personal health data into an App like Zamplo.
I love the idea of a digital record-keeping system like Zamplo to place my known medical history (Zoe is Greek for "life" btw). With the ease of accessing my data from the cloud, I feel comfort in knowing that I can whip out the planning tool that is my smartphone, and log-in to find those very same records I kept in my binder. I can also hope to access a community of others like me, to help and to serve.
Because the best leaders - do.
By Penny Greening, Vancouver, BC
*To learn more about fixed vs. growth mindsets, I recommend reading Mindset, by Carol S. Dweck PhD.