Zamplo helps
people like you
New Feature: Zamplo Concierge
Receiving lab reports or other health information through email?
Now you can automatically and easily create a journal entry without having to log in to your Zamplo account by emailing or forwarding emails to concierge@zamplo.org.
Zamplo empowers you to manage your health journey - digitally.
Now you can privately, quickly and easily use your smart phone or tablet to...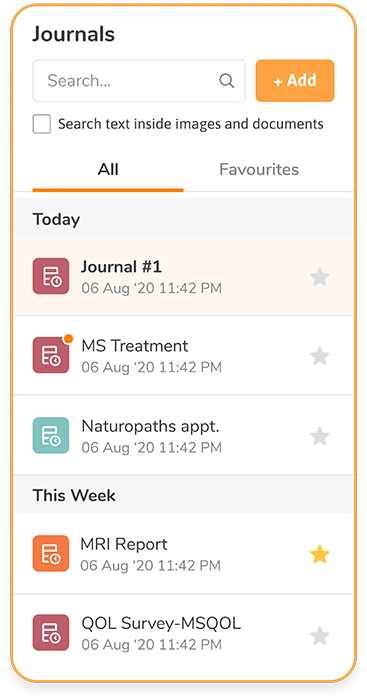 Create a "Virtual Binder"
Create journal entries with your symptoms, medications/supplements, activities, health data, notes and questions that save to your "virtual binder."
Easily take a photo with your smartphone or tablet of your health information including lab results, MRI/CT/PET scans, blood work, prescriptions and referrals and save as attachments to your "virtual binder"
Zamplo premium uses optical character recognition, to easily search keywords through your virtual binder.
No more flipping through pages!
Ditch the physical binders and have true data portability with everything you need, where and when you need it.
Read more about the benefits of journaling throughout your health care journey.

Easily share your information
Invite a Caregiver
Friends and family often play a huge role in your health care journey.
Instead of passing around a binder, invite a caregiver to contribute to your virtual binder.
They too can easily scan, enter and manage your health care information.
Invite a member from your Careteam
Instead of telling your story over and over again, invite a member of your Careteam to contribute, manage and view your health care information.
You control the level of access of your Caregivers and the members of your Careteam.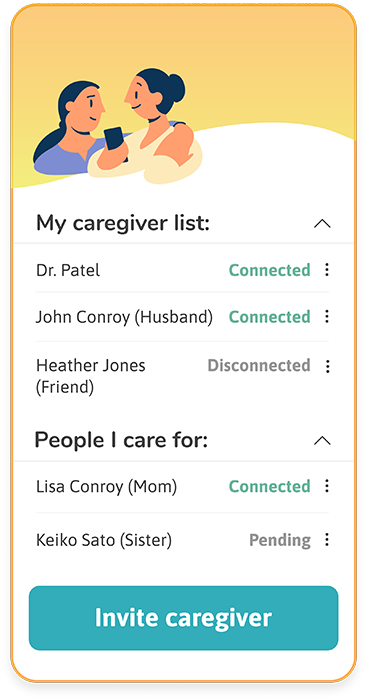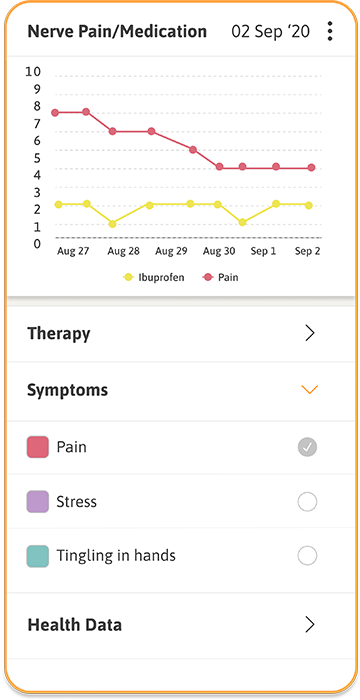 Graph your health data
Throughout any health journey, patients and caregivers collect overwhelming amounts of health data and information.
Using Zamplo, you can track, graph, analyze and view trends in your symptoms, activities, and health data.
By better understanding, your trends in your health data, will allow for more informed decision-making and enhance your engagement at your medical appointments and throughout your health care journey.
Read more about the importance of taking control of your health care data.
Create Reports
Whether it's the uncertainty, the frustration of telling the same story to four different health care providers in one day, or the effects of treatment, a health journey can leave you exhausted when you need your energy the most.
Before your next appointment, create a report to summarize the information in your journal entries to provide a snapshot of your symptoms, medications, health data, treatment regime, and questions.
Feel more organized and more empowered to advocate for yourself, by having your health data in your hands.
Read more from a patients perspective about leading your own health journey.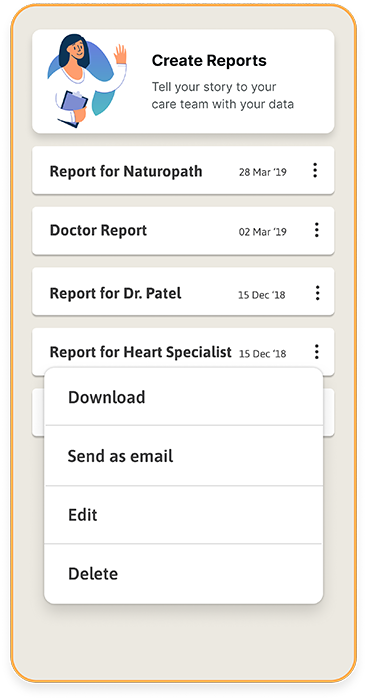 Create Routines
We know you have a lot to remember...
Keeping track of medications, treatments, monitoring symptoms, diet and food intake, movement and exercise, and mental health check-ins can be overwhelming.
Let us help remind you!
Set up a routine by entering and creating reminders for reoccurring medications, supplements and activities while tracking health data and symptoms.
Zamplo connects to Health Canada Drug Product Database to provide accuracy with your medications and supplements.
Read more about setting up a personalized Zamplo Routine.
Privacy By Design
Zamplo has been designed with privacy at its foundation. Each user has complete control over the collection, use and disclosure of personally identifiable information. Any information that is de-identified and aggregated will only be used for research purposes, not marketing.

Any identifiable information will only be collected for research with the informed consent of users. We will always be transparent to users through our privacy policy.
Security By Design
Zamplo has also been designed with security at its foundation, so regardless of your privacy related decisions, we will ensure that our security is continuously monitored, tested and enhanced to keep your data safe.
"I was fortunate enough to be able to be a part of the initial Zamplo App that was created. This was a very valuable tool for myself as a cancer patient. It allowed me to keep all of my important information with me at all times. Previously, I was keeping all of my questions, results, medications, schedules etc in a book that I carried everywhere. This became very frustrating when in an appointment and having to search through paperwork to find what I needed. Having an App at my fingertips made this overwhelming process much easier to manage. Being able to create notes as they came to mind instead of trying to remember to write them down in my book was invaluable. As a survivor and a caregiver, this is an important tool to be able to access in organizing health information."
"Zamplo has allowed myself as a cancer caregiver to better track, monitor, and update our journey 24/7. Nowhere else is there such a great tool that incorporates everything we need. It has reduced our stress, improved our decision making, and gives us, our health care professionals and support team a better and more accurate picture of my wife's journey."
"I have been living with Multiple Sclerosis for over 15 years. Managing my disease and navigating in and outside the health system has meant collecting mountains of files of valuable health information. Feeling empowered to take control of my own health is how I maintain a positive attitude and remain determined, which has allowed me to thrive despite having a threatening health condition. When I learned about Zamplo, I felt gratitude and relief, finally there's a way to easily consolidate and share my information with my health practitioners and care partners! I am so proud to endorse Zamplo to help us all move towards a more patient empowered future."
"Zamplo application made tracking my joint pain condition and treatment so simple and easy. I needed a solution like this as I went undiagnosed for many years and had to find out my triggers independently. Zamplo application is a very helpful tool for those serious about taking charge of their health."
"Zamplo provides a complete record of my son's health information and health care journey. A complete record includes self-reported outcomes along with all records from his health care team. Having all of this information in one place supports good decision making and a single digital source means no more binders! His health information is portable and can be easily shared with others. The very useful graphing function allows for a quick analysis of the impact of changes to his health care plan."
"As a health behaviour change researcher, we will examine the implementation and impact of the Zamplo app to continue to support cancer survivors to build wellness into their usual routine. Having the ability to provide feedback based on participant responses, and collect patient-reported outcomes along with their activities, will be instrumental in understanding how to both deliver and assess the impact of our physical activity interventions."